First, congratulations to Lisa whose email address begins with "cc", the winner of the Lady Vengeance eau de parfum purse spray giveaway! Woo hoo! And thank you to all who entered. If you didn't win, I hope you'll enter the new giveaway in this post  🙂
In the winter, skin needs more than a little TLC. MyChelle's Sweetness & Light Skin Refining Beauty Duo definitely helps me beef up my skincare routine.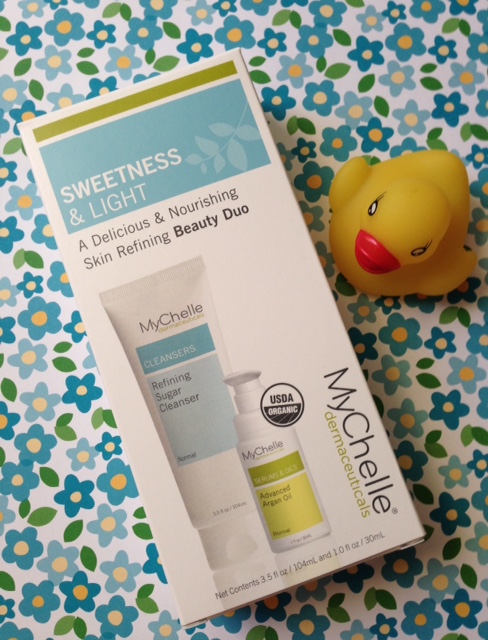 Back in October, I received several products from MyChelle's pumpkin collection, and I received the Refining Sugar Cleanser in the box of goodies. So I've been using this half of the duo for several months now, and I love it. But since I already have a tube of this little wonder, I can give away the new tube that I received to one lucky reader. Stay tuned for more info below.
I discovered MyChelle Skincare at Whole Foods several years ago. I picked up a number of their serums, and I liked them a lot. Last summer, I was sent 3 different sunscreens to try out, and I loved them so much I used them up (reviewed here). Sun Shield Unscented and the Sun Shield Coconut scented were my favorites. I will buy more of them next summer for sure because they are physical sunblocks made from natural ingredients and they're lightweight and pleasant to wear.
The pumpkin skincare products I got in the fall are lovely (reviewed here). In fact, I use the delicious pumpkin-scented Creamy Pumpkin Cleanser every night. It's so creamy and soothing, the perfect everyday winter cleanser for my dry skin.
Sweetness & Light Skin Refining Beauty Duo
I use the Refining Sugar Cleanser a couple of times a week. It's a terrific multi-tasker because it's an exfoliator and cleanser in one. Refining Sugar Cleanser is a white gel-cream with good size sugar crystals, not tiny but not huge, and they really do the trick. The cleanser has a lovely, mild but sweet sugar scent. The crystals melt as I massage and make circles on my face, and then I rinse. My face feels so soft and smooth. Love it. The smooth plastic tube contains 3.5 fl. oz./104 ml, and it has lasted me for several months and there's still plenty left. You only need a small amount, so it's a very good value at $25. I often follow it up with Advanced Argan Oil.
Unfortunately, I don't have an extra Advanced Argan Oil to give away because I just have the one to review. And you'd have to pry this Advanced Argan Oil from my cold dead hand! 😆 If you haven't tried argan oil, it is a natural oil that is derived from the kernels of the Moroccan argan tree. There's a food grade version, but this is the cosmetic version that's fabulous for hydrating skin, hair and nails. What makes me ADORE this argan oil is that it sinks in within a few minutes and the oiliness almost completely disappears. I'd call this a dry oil. It leaves my skin incredibly soft and smooth. Love this argan oil! I haven't found anything like it yet!
MyChelle Advanced Argan Oil comes in a heavy white glass bottle with a fabulous plastic pump. Most argan oils comes with a dropper, and the pump is sooooooo much cleaner and easier to use! If you are looking to try argan oil, THIS IS THE ONE TO TRY!!!
USDA-certified, Baobab-enhanced Argan oil with essential fatty acids and vitamin E, it conditions with mega-moisture. It's a lightweight clear oil, and it's scent free. Price $15 for  1 fl. oz.
MyChelle skincare products are made without GMO, Gluten, Parabens, Petroleum, Phthalates, Silicones, Sulfates, Ureas, Artificial Fragrances, and Artificial Colors. They are vegan and cruelty-free. Made in the U.S. MyChelle is sold at Whole Foods, on lots of online retailers including vitacost.com, iherb.com, luckyvitamin.com, drugstore.com, and Walgreens as well as on the MyChelle website. MyChelle offers 30% off of your order by signing up for their newsletter, and they have free shipping.
MyChelle Sweetness & Light Refining Duo – the two products together – are currently on sale on the MyChelle website for $27.50, a $12 savings!! Definitely a steal!
GIVEAWAY!
I am giving away only the MyChelle Refining Sugar Cleanser.
This giveaway is limited to U.S. residents, age 18+, where permitted by law, open to all US NSDB readers – unless you won the Shiseido IBUKI Eye Correcting Cream or Lady Vengeance perfume giveaways, then please sit this one out! The giveaway will run for one week till Tuesday, February 2, 2016 at 12:00AM EDT, so the last full day is Monday, February 1.
Hopefully by now, you know the drill. You MUST LEAVE A COMMENT on this blogpost about why you want to win the MyChelle Refining Sugar Cleanser. One entry per household. The comment is mandatory. And you must record that you did it on the Rafflecopter widget below. Extras that you can do to earn more points are:
subscribe to Never Say Die Beauty
follow Never Say Die Beauty on Twitter
follow Never Say Die Beauty on Bloglovin'
follow Never Say Die Beauty on Instagram
follow Never Say Die Beauty on Google+
follow Never Say Die Beauty on Pinterest
visit Never Say Die Beauty on Facebook (and like it if you want!)
If you do any of the above extras, you are entitled to more points. But YOU MUST CLICK OFF THOSE OPTIONS on the Rafflecopter widget.
If you don't already subscribe to Never Say Die Beauty via email and you want to and plan to stick around for more than just the length of the giveaway, the signup is on the homepage of the blog in the upper right hand side. 🙂
To recap, this giveaway is open to US residents age 18 or older. Void in states where prohibited. The winner will be selected by a random drawing via the Rafflecopter widget when the giveaway ends on Tuesday, February 2, 2016 at 12:00AM EDT (so the last full day is Monday, February 1), and the winner will be notified by me via email. You have 48 hours to get back to me, if not a new winner will be selected. The winner will provide me with her/his mailing address, and I will mail your prize to you as soon as possible. I am not responsible for loss or damage in shipping. In other words, if it's lost or damaged in shipping, I will be sad, but there is no replacement.
Thank you for entering the giveaway and good luck!