Yesterday in Massachusetts, we got a reprieve. After a Saturday night snowfall, Sunday saw temperatures rise to 55 degrees, a virtual heatwave at this time of year. Today, the sun is out, thank goodness, but the wind is blowing like mad bringing in a new cold or, shall I say, frigid front. Ugh.
This is what winter usually looks like here but with even more snow  😥
Between the cold wind and the dry indoor heat, my skin is visibly unhappy.
So which products do I turn to to do the best I can to hydrate and protect my skin?
I've teamed up with the members of The Beauty Council, and we've put together our winter beauty musts.
Face Care
Hyaluronic Acid: This wonderful ingredient holds up to 1000 times its weight in water. Just the antidote for winter dry conditions. I try to get HA into my skin by drinking water with NeoCell's tart but refreshing Blueberry Liquid.
I Bought This - Affiliate links    Promotional Product
And I apply it topically with NeoCell's citrus-scented Hyaluronic Acid serum.
Extra Hydration – Mineral Water: I just reviewed Evian Facial Spray a few days ago here, and it really is fabulous to rehydrate my face from either cold weather outside or dry indoor heat. And I can apply it right over my makeup. It's fabulous.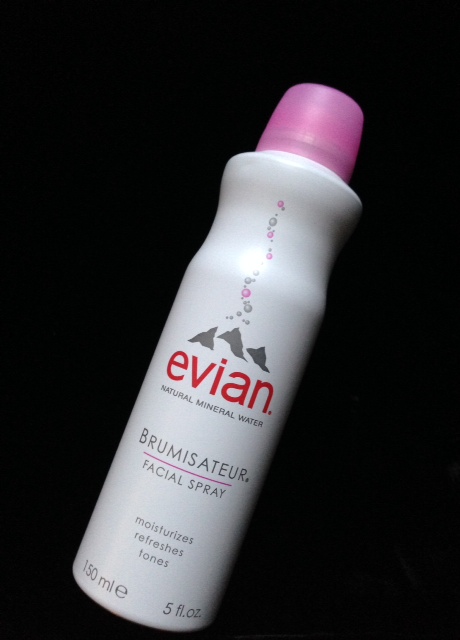 Heavy Duty Moisturizers: During the winter, I bring out my heavier, more emollient facial moisturizers. For daytime, I use a heavier weight cream moisturizer with SPF like Hydroxatone AM/PM Rejuvenating Anti-Wrinkle Complex SPF 15.
At night, I'm using Lift Labs Lift & Moisturize that leaves my skin silky soft and smooth.
If I'm extra dry, I'll reach for the fragrant Exuviance Evening Restorative Complex or…
the soothing Ultra Repair Cream from First Aid Beauty.
Oils: Oils really are a girl's best friend especially during the winter. I love rose hip oil for hydration when my skin is extra dry or when it's feeling tight and almost sore. The brand I'm using now is Aura Cacia Rosehip Oil. It's organic and very affordable! And I just noticed Aura Cacia also makes a face serum.
Eye Cream: I've got a slew of eye creams and serums. The ones that I find most hydrating are Hada Labo Tokyo Age Correcting Eye Cream Deep Hydration with Super Hyaluronic Acid that still feels lightweight
and Lancome Renergie Lift Multi-Action Eye Cream, a luxurious cream that doesn't irritate the sensitive skin on my eyelids, crease and inner eye.
Body Care
Although I love long showers, I try to limit them so I don't dry out my skin further. And in the shower, I exfoliate with a hydrating exfoliator or body polish. Lately, I've been using Teadora Rainforest At Dawn Body Polish that leaves my skin smooth and lightly hydrated, ready for more serious moisturization.
For my all-over dry skin, I use the big guns all year round. I have a number of favorite body butters, but the real heavyweight is 80 Acres Blood Orange Body Butter. The orange scent is just incredible! And it definitely hydrates my super dry skin.
Another favorite is especially great for when I want to apply in a hurry: DermOrganic Hand & Body Lotion in a handy pump. It's fragrance-free, rich and easily absorbed.
I love the fact that both of these body moisturizers are natural with organic ingredients.
Lip Care
Speaking of natural with organic ingredients, my go-to lip exfoliator is the delicious, citrus-scented Teadora Rainforest At Dawn Lip Butter. It's a gentle exfoliator that smooths my lips and leaves them moisturized.
If you follow my blog, you would probably guess that my cold weather lip care is still my favorite City Lips Lip Plumper with collagen and HA. They just had a 60% off sale so I bought two more in "clear". No chapped lips for me this winter! It's the only lip balm that I can put on at night and it's still on in the morning! This stuff protects and nourishes big time!
Hand Care
To keep my hands from becoming chapped, I've been using La Mer Hand Treatment. Although this cream doesn't feel heavy, my hands are kept nicely moisturized.
And throughout the day whenever I think about it, I'll apply the DermOrganic Hand & Body Lotion.
So this is my arsenal of winter skincare hydrators and exfoliators. And I better get ready for the 14 degree temperatures that are coming this week. What's in your winter stash for healthy, hydrated skin?