Happy Valentine's Day!
In the Boston area, it's the calm before the next storm that starts this afternoon. So our plans for going out to dinner are up for grabs. But in the meantime, I did an easy polka dot Valentine's Day mani that I copied from inventive nail blogger, Nidia from Beauty Lit From Within. Check out her much more perfect version of this mani and lots of her other original designs.
To do this mani, I searched through my stash for a dark pink, white, and a red polish with shimmer.
I started out with Sally Hansen Salon Manicure Smooth & Strong Base Coat, then I applied two coats of Zoya Flora, one of my all-time favorite Barbie-ish pinks. I let the pink polish dry completely.
I searched for my double-ended dotting tool from essence cosmetics, but couldn't find it anywhere so I improvised. I went to the tool kit, and I mean my actual household toolkit to look for some nails. With nails, you can use the round head or the point for dotting depending on the size of the dot you want.
I found a plastic insert from a skincare product that I'm testing out. Unfortunately, this plastic insert doesn't appear to be recyclable, so I figured I would use it for my nail polish and at least get a second use out of it before I throw it away. I poured some of the NYC white polish into one of the little indentations in the tray, then I used the nail head to make random dots across each of my nails. I mostly made big dots with the nail head, but I made a few tiny ones with the point. I didn't have a pattern, although next time I may try a specific dotting pattern for more uniformity. I let the white polish dry completely.
For the red dots, I used Milani Ruby Jewels, a stunning red from last year's collection with red shimmer rather than pieces of glitter that would be too hard to work with. This polish is worth tracking down (see the Amazon ad below). It's a stunner.
I did some red dots on their own and others partially on top of the white dots. I meant to let the red polish dry thoroughly, but I must have jumped the gun because there was a little spreading after I applied a coat of NYC New York Color Grand Central Station topcoat. Patience is a virtue that I don't always have. Still I think it looks cute!
Next up are this week's beauty blogposts from Beauty Blogazons with reviews of eye makeup, tips on applying mascara, a review of the derma roller that I reviewed a few weeks ago, nail art tutorial, red makeup for Valentine's Day, a lip/cheek stick review, an innovative makeup remover, and my review of LATHER's all natural Tinted Lip Balms. Lots of fun reading for a snowy day!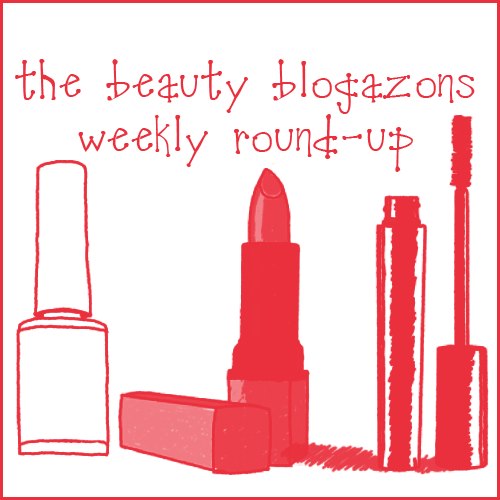 Enjoy Valentine's Day whatever's on your agenda! And what's on your nails today??