Since I've been sick for the past couple of weeks and have been on a clear liquid and now a soft white diet, I'm not exactly ready for Thanksgiving. Unfortunately, I don't know what I'm going to be able to eat! But I am thankful that I will be finished with most of the medications I've been taking that have horrendous side effects by the time this posts. Yay.
2015 hasn't exactly been my favorite year, but in terms of beauty products, it's been a good one. I'd like to mention several products that I'm thankful for. We're all different with different needs and preferences, but you never know: something I love might just be appropriate for you too! Plus, I think a lot of these items would make great holiday gifts or stocking stuffers.
I Bought This - Affiliate links   Promotional Product & Links
Beauty Tools
My bamboo-fiber Hubalou Hair Wrap is probably this year's winner for me, and I'm not kidding!
I received this hair wrap from Hubalou back in February, and it is a real game changer. The bamboo fiber fabric is uber soft, and it doesn't pull out hair at all the way microfiber towels do. If you're sick of seeing hair strands on your microfiber or regular towel, I strong recommend you get one of these beauties. Plus it helps remove more water from your hair cutting down on drying time. Check out my original Hubalou review for details. $24
I think I mentioned the Shiseido Lash Curler last year, but I'm mentioning it again. It's the best lash curler for me because it's so wide. It doesn't crease my lashes, pinch my eyelids or pull out my lashes. And the curl stays in. $19
Before buying the Beauty Blender Solid Cleanser, I used baby shampoo, Dr. Bronner's, or regular mild soap to clean my Beauty Blender. It took forever to clean it. I don't know what miracle ingredients are in the Solid Cleanser, but they get my Beauty Blender cleaned up in well under half the time and it's much cleaner than using the other soap products. Buy this. It's worth it. $16
Skincare
DermaMD Soy Moisturizer Intense Healing Cream (body cream)
This past year, I tried a lot of great body lotions, creams and butters, but the one I reach for most often for my very dry skin is DermaMD Soy Moisturizer Intense Healing Cream. This light green gel-cream is beyond ah-maaaaz-ing! You know how you have to rub in some creams or butters forever till they absorb into the skin or to get rid of that white look, that NEVER happens with DermaMD Soy Moisturizer Cream. It is so fast to apply, absorbs instantly, and makes my dry skin feel baby soft. I adore this stuff. I am almost finished with the super-size pump bottle that has lasted me since June. Thankfully, I have one more regular size jar waiting in the wings. $52
I have a skin condition on my eyelids related to having dry eye. My eyelids and eye sockets  look red and inflamed. The skin on the inner corners of my eye sockets is dry, flakey and hurts when I put some eye creams on it. Thank goodness I discovered Lindi Skin Eye Hydrator that is part of a line of skincare products for patients undergoing radiation or chemotherapy or for anyone with stressed, sensitive skin. This thick golden gel is so soothing and healing. It's a miracle. I can't be without it so I hope they make it forever. If you go to my original Lindi Skin review, there's a 25% off discount code there for any Lindi Skin purchase. $30 regular price
OZ Naturals Pro-Retaxinol 2.5 Serum
This affordable facial serum from OZ Naturals contains 2.5% retinol plus hyaluronic acid, vitamin E and an anti-aging ingredient called astaxanthin. It's a lightweight liqui-gel that absorbs in a few seconds. You can't beat this ingredient combo for hydrating, evening out skin tone, and lightening the appearance of lines and wrinkles while still being gentle enough for my sensitive skin. My full OZ Naturals serum review here. $25
Paula's Choice Resist Vitamin C Spot Treatment
I just bought another tube of Paula's Choice Resist Vitamin C Spot Treatment to keep at lightening my dark spots. Between this and the OZ Naturals Serum, they are definitely lighter. Check out my empties post where I talk about finishing up this spot treatment to get 20% off and Free Shipping on this and any Paula's Choice product through the end of 2015. $55
H2O+ Targeted Care Hand and Nail Cream
I've tried a lot of great hand creams this year, and I think I'll do a separate post on them. But the winner for me is H2O+ Hand and Nail Cream because it absorbs super fast and leaves my bone dry hands feeling lightly coated with a protective feeling for hours. Travel size $6.50, full size $15
I'm almost finished with the jar of Nail Butter I got back in the summer. I adore the lemongrass scent (but it also comes in gardenia). Since I've been sick, I haven't been using it and you can see the difference in the health of my nails and the look of my cuticles. Once I feel better, I will get back on the bandwagon to get my nails into shape for the holidays. I plan to pick up a jar or two of Nail Butter for myself and gifts. Nail Butter is having a 25% off sale on Black Friday and BOGO 50% off sale on Cyber Monday. No code required. $24 regular price
I've been moisturizing my neck for years but at this stage of the game, it needs the heavy duty stuff. StriVectin Neck Cream with NA-114, their patented niacin derivative ingredient, definitely helps me tighten things up. Serious stuff. $95
Makeup
Mirabella BlackMail Eye Crayon and butterLONDON Wink Eye Pencil Crayon in Union Jack Black
I tightline my upper waterline and/or between my lashes and I need a soft, easy to use pencil to do it with. Mirabella BlackMail Eye Crayon that is black, black, black and butterLONDON Wink Eye Pencil Crayon in Union Jack Black are both super soft and easy to use. Although they do come off a bit on my lower waterline, I'm OK with that look. As eyeliner, they stay put. I just love that these both go on like a breeze, no tugging at all. Mirabella Crayon $24, butterLONDON $18
Stila Convertible Color Cheek (and Lip) Cream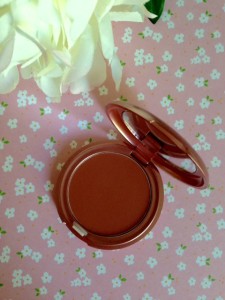 I prefer cream blush, but some women complain that cream blush doesn't last. With Stila Convertible Color Cheek Cream – I use the shade Peony, a peachy-brown natural-looking shade – the color DOES NOT FADE. It stays on for hours and hours till I take it off. Love the shade, love the performance. $25
I have a lot of eye shadow palettes, but the ones that are easiest to blend, stay on forever, and look great are the two I own from Viseart, professional makeup. I own the Neutral Matte Palette, and I just bought the Cool Matte Palette.
They are pricey and also often sold out, but I wait for the sales. The next one on my Wish List is the Paris palette, a mix of satins, mattes and shimmers. These palettes are an investment, but they're the best! $80
Jordana Twist & Shine Moisturizing Balm Stain
The lip crayon I've been using most often this past year is an affordable crayon from Jordana in Fig. Check out my longer review for Jordana Twist & Shine Balm Stain here. I love it. It's hydrating, it's a very flattering shade that's great for everyday, and it lasts a long time and leaves behind a stain when it does fade. $4.99
So these are the tried-and-true products that have helped me get through the year so far. Which beauty products are you thankful for?
For those in the U.S., have a great Thanksgiving!