As I've mentioned a million times, I prefer cream everything for my dry skin. Recently, I read a post from Katie at From My Vanity comparing e.l.f. Smudge Pots to Maybelline Color Tattoos. I never heard of e.l.f.'s cream Smudge Pots, and after reading about them, I headed right for Target.
I Bought This - Affiliate links  Promotional Product
They had two shades left on the rather picked over display of e.l.f. goodies so, at $3 each, I bought them both:
Ain't That Sweet: pale pink shimmer
Wine Not: deep plum shimmer.
I've only owned them for about 10 days so I can't say if they dry out over time the way Maybelline Color Tattoos can. Right now, they're very creamy, and they contain vitamin E for skin benefits.
I usually like to apply creams with my fingers, but the openings to these little pots are smaller than the Maybelline Color Tattoos. It can be a challenge to get my finger into the pot, especially now that my nails, thanks to Naturol Biotin, are super long. As a result, I've resorted to applying them with a brush.
The deep plum shadow, Wine Not, is fabulous. The color is pigmented and rich. You'd swear it was a much more expensive eye shadow. Ain't That Sweet, the pale pink, is much sheerer, and truth be told, a little disappointing because I would prefer more color in addition to the shine. It does build up, but I wish it were more opaque.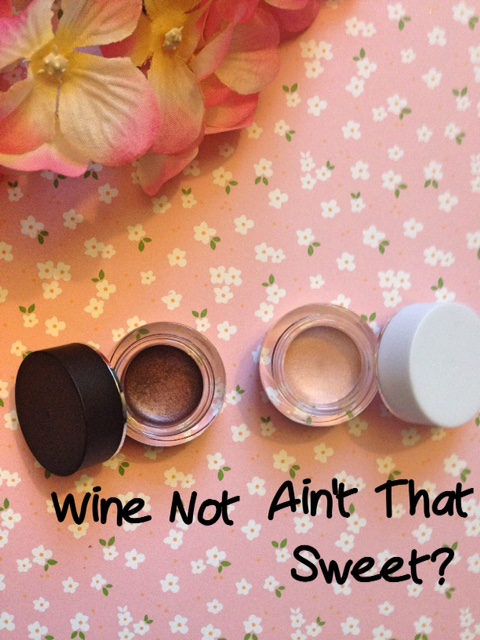 My swatches below are over bare skin, and the colors of both look quite good IMHO, though you can see that Ain't That Sweet isn't as smooth and opaque as Wine Not. When I wear them, I always apply primer first, and there's been no creasing, and both shades are long lasting. They maintain their color till I remove them. I definitely intend to haunt the e.l.f. display at Target to see if they restock with some more shades.
There are 10 shades in all. Most appear to be shimmers, but some look like they could be matte. Most of the shades are neutrals, but there's a yellow-gold, deep blue and deep purple in addition to a variety of browns, mauve and gray.
The rest of my look uses:
Face
IT Cosmetics CC+ Veil Beauty Fluid (Cushion) Foundation, Light
PUR Hydrating Water Foundation, Light
IT Cosmetics CC+ Vitality Brightening Creme Blush, Je Ne Sais Quoi
Cynthia Rowley Illuminator
Eyes
e.l.f. Essential Smudge Pots, Ain't That Sweet? and Wine Not
Lancome Drama Liqui-Pencil, Noir (upper lid & waterline)
IT Cosmetics Superhero Mascara
Lips
Milani Power Lip, Macaroon, one of my favorite hydrating liquid lipsticks soon to be discontinued, boo hoo
Have you tried these little e.l.f. cuties?