I've mentioned a number of times that I am a fine soap lover. I can't get enough. I love the way they look, the way they smell, the natural ingredients, and the special care with which they're made. I use them in the shower, to wash my hands and occasionally on my face.
Because I care what ingredients I use on my face and body, I look for soaps made with ingredients I can trust. That's where LATHER comes in. I just love the natural botanicals that they use. And lavender, an herb that I grow, is one of my favorites.
On my doorstep the other day was a lovely package with LATHER's Lavender Soap Set inside. The box smelled like heaven even before I opened it. Inside were three hand-cut, hand-poured square soaps.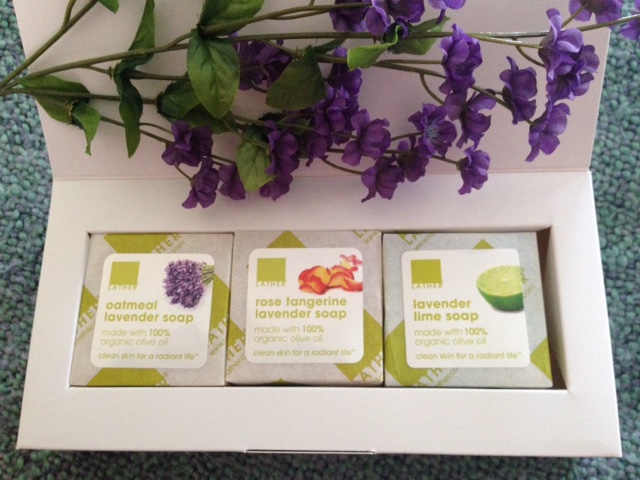 Although all three of the soaps were crafted with soothing lavender essential oil, each 4 ounce soap is different and is individually wrapped with paper and a pretty label identifying the unique scent. The soaps don't really smell like lavender – each has its own herbal/botanical scent, its own color and the scent combinations are absolutely wonderful:
rose, tangerine and lavender
lavender lime
oatmeal lavender.
In addition to the soaps, the box includes a handy soap dish made from sustainable bamboo. In fact, I had been on the hunt for one of these bamboo dishes so it came at the perfect time.
The LATHER Lavender Soap Set would make a wonderful gift for Mother's Day! It's just the thing for any mom who loves fragrant, natural soaps. When she's not using the soap (I mean the unopened ones), they make great sachets to put in among her lingerie.
LATHER is a cruelty-free brand, made in the U.S. The Lavender Soap Set is specially priced now at $23 (regular price is $30) which makes it a perfect Mother's Day idea! PLUS LATHER is running a 20% off Mother's Day promotion till April 30. Use the code: MAMA and get 20% off YOUR ENTIRE ORDER 🙂
LATHER products can be purchased on the LATHER website or at its store locations in Pasadena CA, Scottsdale AZ (I wish I had know there was a Scottsdale store since I was just there), Honolulu, Fairfax VA, and the store at the Hartsdale Airport in Atlanta that I visited last time I was in Atlanta on business.
Here are the ingredients:
GIVEAWAY
LATHER has generously offered to give away a Lavender Soap Set to one lucky Never Say Die Beauty reader in honor of Mother's Day. And in case you plan to gift this lovely soap set, I'll make it another quickie giveaway so you might be lucky enough to get it in time for the holiday.
The LATHER giveaway is limited to U.S. residents, age 18+, where permitted by law, open to all US NSDB readers – unless you won the recent Lorac eye shadow palette giveaway, then please sit this one out! The giveaway will run for about a week till Tuesday, May 2, 2016 at 12:00AM EDT, so the last full day is Monday, May 2.
Hopefully by now, you know the drill. You MUST LEAVE A COMMENT on this blogpost about why you want to win the LATHER Lavender Soap Set or what you plan to do with it if you win. One entry per household. The comment is mandatory. And you must record that you did it on the Rafflecopter widget below. Extras that you can do to earn more points are:
subscribe to Never Say Die Beauty
follow Never Say Die Beauty on Twitter
follow Never Say Die Beauty on Bloglovin'
follow Never Say Die Beauty on Instagram
follow Never Say Die Beauty on Google+
follow Never Say Die Beauty on Pinterest
visit Never Say Die Beauty on Facebook (and like it if you want!)
If you do any of the above extras, you are entitled to more points. But YOU MUST CLICK OFF THOSE OPTIONS on the Rafflecopter widget.
If you don't already subscribe to Never Say Die Beauty via email and you want to and plan to stick around for more than just the length of the giveaway, the signup is on the homepage of the blog in the upper right hand side. 🙂
To recap, this giveaway is open to US residents age 18 or older. Void in states where prohibited. The winner will be selected by a random drawing via the Rafflecopter widget when the giveaway ends on Tuesday, May 3, 2016 at 12:00AM EDT (so the last full day is Monday, May 2), and the winner will be notified by me via email. You have 24 hours to get back to me, if not a new winner will be selected. The winner will provide me with her/his mailing address, and LATHER will mail your prize to you as soon as possible. LATHER and I are not responsible for loss or damage in shipping. In other words, if it's lost or damaged in shipping, we will be sad, but there is no replacement.
Thank you for entering the giveaway and good luck!
a Rafflecopter giveaway