When we stayed at the beautiful Junipine Resort hotel in Sedona AZ a couple of weeks ago,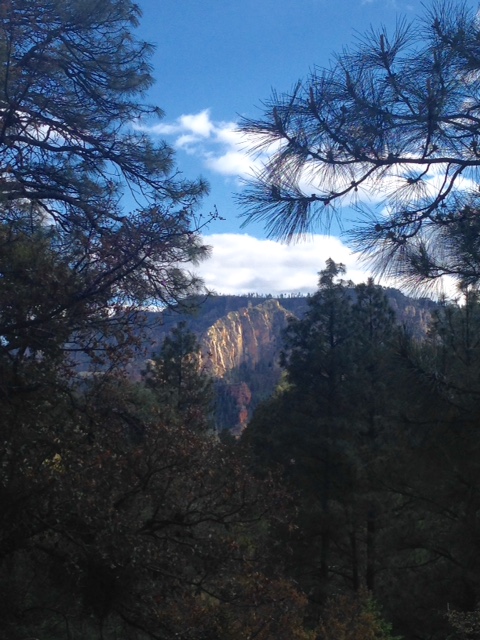 the amenities left for us in our townhouse bathrooms were from Tarocco, a brand that was unfamiliar to me.
The bath and body products were scented with Sicilian Blood Orange, a scent I love. I found out that Tarocca is a specific type of blood orange that was brought to Florida from the Mediterranean in 1880 and then made its way to California. Tarocco Sicilian Blood Orange products are made by a company called CaliCosmetics.
At any rate, we received sample sizes of the shampoo, conditioner, glycerin bar soap, and a complexion soap. I fell in love!
The hotel has a little shop where they sell groceries, wine and beer, T-shirts and hats, postcards, stuff about Sedona, and some of the Tarocco products. I went in specifically to buy the glycerin bar soap, but unfortunately they didn't sell that particular product. But they kindly gave me a few deluxe sample size glycerin bars as well as a few bars of the complexion soap. Yes! Both are very gentle, lather well, are not drying and smell like an orange grove. I heartily recommend them for you citrus or orange scent lovers. You won't be disappointed.
The shop sold a big bottle of Tarocco Nourishing Moisturizer in the Sicilian Blood Orange scent. I don't know if they forgot or they don't give out body lotion as part of the amenity package, but I hadn't tried it. I bought it on faith.
All of the Tarocco products contain olive oil with extracts of Sicilian Blood Orange. The blood orange is rich in vitamin C and other antioxidants. The products I've tried from Tarocca smell fabulous, and they do a good job moisturizing.
The lotion is lightweight but hydrating. Even though it appears to be a light moisturizer, you have to work it into your skin till the white cast disappears. Somehow it takes a bit more rubbing on my calves/shins than on the rest of me! I think it's the olive oil. The lotion smells incredible as I rub it in. It leaves behind a lovely orange scent, but just for a few minutes. The scent disappears and doesn't interfere with the perfume or fragrance I wear.
The lotion/Nourishing Moisturizer comes in the 8.6 fl. oz./253 ml size that I bought as well as a larger 16.9 oz. size. I paid $12 or was it $18, for the 8.6 oz. bottle of Nourishing Moisturizer, and that's what the hotel was charging for the full size shampoo and conditioners too. The line is sold on the Calicosmetics website, on a website called Wilson Street, and on Amazon. I got a deal at the hotel shop! And the Tarocca product line includes: body lotion/nourishing moisturizer, shampoo, conditioner, body scrub, shower gel, hand cream, foot cream, foaming body oil, and a facial moisturizer as well as candles and other products. Thinking about all that orange scent is making me swoon!
Are you a fan of orange or citrus scented products?