Years ago, one of my college friends who was a real Francophile told me all about espadrilles, a snack cheese called La Vache Qui Rit (that we now know as The Laughing Cow), wine from Bordeaux, and Evian Mineral Water Facial Spray from the French Alps. I knew that the French drank water from bottles rather than from the tap as we did back then, but at the time, I was completely unaware of using mineral water as a facial spray to essentially bring the famous Evian Spa home. And I just discovered that Evian mineral water was initially used by doctors in France in 1962 on burn patients.
Duane Reade, my drugstore of choice when I lived in New York, began to carry mini-spray cans of Evian and I bought one. When I got my first job in advertising and I started to travel on business throughout the U.S. and internationally, I took along a mini-bottle of Evian Facial Spray. Air travel is like the desert for my skin. So the little bottle of Evian Facial Spray was and still is perfect for hydrating my face during long flights across country or to Europe or South America.
I recently received a 5 fl. oz. bottle of Evian Facial Spray via Brandbacker, a blogging and brand organization. Woo hoo! Now I can spray away! And I have learned that each one second spray releases several million micro-droplets of neutral pH mineral water to hydrate and freshen skin without making a mess.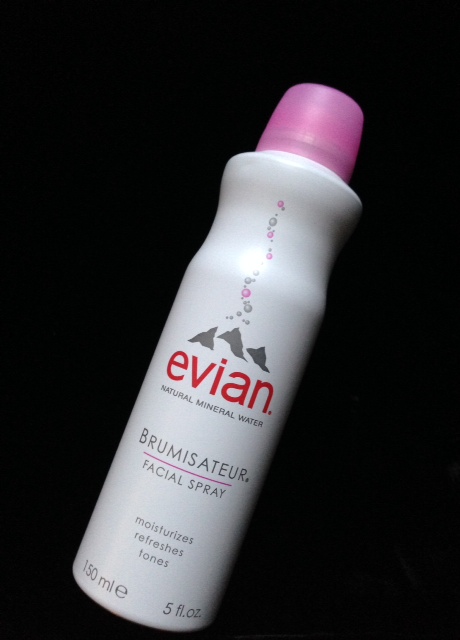 Besides hydrating skin during air travel, Evian Facial Spray is an essential beauty tool.
After cleansing, spray Evian all over the face in a circular motion and let the mineral water absorb. Pat dry any excess, and follow with moisturizer to seal in the hydration.
Especially after applying mineral foundation or setting powder, hold the can about 9-12 inches away and spray the fine mist for a couple of seconds to hydrate and create a natural look. And it can be used after any type of foundation for a dewy look.
Evian Facial Spray can be used throughout the day over makeup to freshen your look by reviving your makeup.
In winter, indoor heat can be very drying. Using Evian before applying nighttime moisturizer at bedtime can help keep your skin from getting parched.
A tip from makeup artists is to use Evian Facial Spray to lightly moisten makeup brushes for easier and more precise makeup application and blending.
In consumer research studies (my field!), women who used Evian Facial Spray twice a day for a month showed pretty impressive results:
94% claimed better hydration
95% thought their skin was healthier
97% said their skin felt softer to the touch
89% felt their skin didn't feel tight.
Now that I have a regular size bottle, I think I'll try my own twice a day usage test!
Here's how Evian Facial Spray is described on Sephora: "This powerful cleansing mist removes perspiration, harmful salt, or chlorine. It instantly soothes and rehydrates sun-burned or wind-chapped skin, leaving you with a beautiful, radiant complexion. Spray your desired amount to keep makeup fresh and replenish much needed moisture."
So there you go – a couple of more uses for this natural, miracle product: Bring it to the beach or use it after skiing to replace moisture lost to the elements! Love those ideas, too.
Evian Facial Spray comes in the mini 1.7 fl. oz. TSA-approved bottle for about $7, the 5 oz. for about $12 that I received and a large 10 oz. size for about $17.50 for frequent-sprayers 😀 For frequent travelers, you can buy the minis in duos or trios. Evian Facial Spray is widely available; it's sold at drugstores like CVS, beauty stores like Sephora, and even at Nordstrom. So there's no excuse not to pick up a bottle and keep your face hydrated this winter!
Finally, not only is Evian Facial Spray made in France, it is also sealed at the source – unlike other brands – so that it cannot be contaminated.
Ingredients: Pure Natural Evian Mineral Water: Propelled by nitrogen that's safe for the environment and for you.
If you haven't tried Evian Facial Spray, you really should check it out. It can make a big difference for dry winter, summer or airplane dry skin.
*Powered by Brandbacker