2015 has been a weird year for me. Not my best ever, for sure. But thankfully, I've made it through. I'm looking forward to 2016.
But in terms of beauty products I'd say it was a stellar year! Frankly, it's difficult to limit my favorites to a manageable number, so I am going to tackle makeup on its own, and I'll do another post on Skincare and Beauty Tools. I'll break it down by category to make it easier. The products I'm highlighting may not be new for 2015, but they were new to me.
I Bought This - Affiliate links   Promotional Product
Foundation
CoverFX Custom Cover Drops is one of my favorites with a caveat. I love the creativity and versatility of these pure pigment drops, but I wish CoverFX would change the packaging. I hate the messy dropper. There must be a way to make a squeeze bottle. Nevertheless, a great product to wear mixed with moisturizer or concealer or to lighten or darken another foundation or concealer that's not quite right.
Bobbi Brown Skin Foundation SPF 15 was a late entrant for me. I bought this foundation in November, and I love it. Lightweight, good coverage, doesn't settle into lines, and lots of shades. I feel like Bobbi Brown is often overlooked but this foundation is a stand out IMHO.
Concealer
I have a million concealers for different purposes but the one I reach for most often is the Amazing Cosmetics Perfection Stick. I've got two shades. Easy peasy at home or on the go.
One of the game changers for me is Tarte Color Correcting Concealer. This slightly orange, slightly darker opaque concealer does a great job camouflaging my dark circles and dark spots.
Eye Shadow
Viseart Paris Nudes that I finally purchased on sale a couple of weeks ago is a compilation of soft, super blendable, shimmery, warm shades. It is perfection in combination with Viseart Neutral Matte Palette. Everyone needs to own both of these beauties.
The palette I've reached for most since it arrived is butterLONDON Custom Eye Shadow Clutch, a customizable palette in which you can swap out the pans. The shades of beautiful, warm, mostly neutrals with a mix of satins and mattes. Very user-friendly.
ColourPop is a new brand of indie, affordable and stunning color cosmetics that came out this year. Probably it's as big a deal as the CoverFX Custom Cover Drops in terms of excitement. I haven't tried everything yet, but the eye shadows with their distinctive gel/powder formula is beyond amazing for shine and long wear. Plus each shade costs $5 each. Can't beat it.
Pur Minerals Eye Polish is an eye shadow that uses the cushion technology developed, I think, in Korea for BB cream. It's a water based polish that glides onto my eyes, weighs nothing, lasts forever, and gives my eyes a lovely sheer shine.
Eyeliner Pencils
All the beauty bloggers who received the Lancôme Drama Liquid-Pencils raved about them especially because of their long-lastingness. I wondered whether they were as good as everyone said so I bought one during the Sephora coupon event. Yes, they are! This is the only eyeliner I can apply to my upper waterline that doesn't come off on my bottom waterline. My only small complaint is that it's not as soft and easy to apply, especially to the waterline, as some other eye pencils.
Mirabella Beauty came out with a lovely, soft, black eyeliner crayon as part of its holiday collection. It is a dream to apply: no tugging whatsoever, no need to go back over the line. The only disappointment is that this does come off on my lower waterline when I apply to my upper. Guess you can't have everything. Oh, and I love the Wanted Velvet Lip Crayon too!
Liquid Eyeliner
Jordana Cat Eye Liners were my favorites this year without a doubt. With their tiny brushes, they're easy to apply even for a liquid liner klutz like me. And the colors are beyond fabulous. At $2.99, the price is good too.
Mascara
I thought CoverGirl The Super Sizer Mascara was going to make my Best of 2015 list, but unfortunately after loving the first tube I received, it wasn't as great when I bought a second tube. I'm wondering about the consistency of the formula.
Osmosis Mascara has emerged as one of my favorites. I love the volume and length that I get from it. It has a normal looking wand, and it's easy to use.
Benefit The Roller Lash has really impressed me. It's especially good for lengthening and for creating and keeping a curl. I usually don't like curved wands, but this one delivers such long, curled lashes that the curved shape must be doing something special. Definitely give it a try if you haven't already!
Brows
The brow pencil I reach for most often is Mirabella Borrowed From the Boys in Light. It's soft and easy to use and it has a built-in spoolie.
Blush
I'm a fan of cream blushes, but often they disappear as the day wears on. Not so Stila Convertible Cheek & Lip Color. I've got shade Peony, a beautiful peachy brown, and it stays on all day long till I remove it.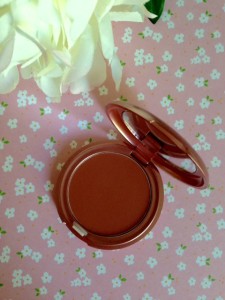 Too Faced Love Flush Blush has to be on my list for cuteness alone. But the pigmentation in this heart-shaped powder blush does not quit. Amazing and long wearing. I apply it with a fan brush because it packs so much punch.
Lipstick
I'm not really a fan of this year's mega-trend – matte lips – because they dry my lips out so badly. But among the mattes, my favorite was Jordana Modern Matte lipstick because they have good pigment, good variety, great price, and they're long wearing.
My favorite lipstick has to be Yves Saint Laurent Rouge Volupte because it is so darn gorgeous. I dropped it the other day when I was at Vidal Sassoon Salon, and one of the young stylists asked me what it was and said it was the most beautiful lipstick (case) she ever saw. I agree. And I love the super hydrating formula.
Jordana wins again for me with the hydrating, affordable Jordana Twist & Shine Balm Stain in my favorite shade, Fig . It is long-lasting but when it dries down, it leaves behind a berry stain.
butterLONDON Bloody Brilliant Lip Crayons. I usually can't wear anything with peppermint oil in it, but somehow it doesn't bother me in these hydrating, fun lip crayons. I love the shades. I wish I could find Lady Bird, the first one I got, because it's a fabulous red-orange and would be great to wear today.
Nail Polish
I adore the butterLONDON Arm Candy Collection of nail lacquer that I received toward the end of the summer, reviewed and swatched here. The variety in the finishes and especially the shades that seemed to be made specifically for me was terrific.
I just tried my first Formula X nail polish in Revved Up, a lovely, soft rose gold metallic. One coat would have been enough, though I applied two, and it was very long lasting. I need to try more from this brand.
So this is my Best of 2015 Makeup list. What were some of your winners for 2015?